Being true desis, Bollywood is something we all relate to. We all have our Raj or Simran and wish to have a love story as theirs. Weather it is the B-town fashion trends, or the SRK-Sallu cold war, the cat fights or the break/link ups or the saucy dance numbers …B-town caters to all of it. Be it the latkas and jhatkas of your favourite actress, or 8-pack abs of your favourite hero, these hotties get you drooling everytime they're spotted. But everything doesn't go well in this paradise. Here are top 10 Bollywood controversies you may not be aware of:
 1. Thappad se darr lagta hai sahab!
Gauhar khan, the controversy queen recently found her in the headlines for being slapped by someone from the audience for wearing 'short clothes and disrespecting her religion'. The incident took place on the sets of reality Music show Rawstar's grand finale. Later the case was discussed in court with a press conference where the very resilient Gauhar spoke about the entire incident and women's rights to the media. She got huge support from other members from the industry as well who tweeted in her sustenance. Kudos for being professional and finishing the shoot …J
  2. Deepika – TOI Combat
Deepika Padukone's cleavage controversy did the rounds for quite some time.  While the actress posted her bafflement as allegation against the TOI on her Facebook Page and made headlines,  TOI refuted and took a solid stance asking the actress how was it that she was fine with exposing her cleavage for magazine covers and photo shoots but created such tumult about the TOI's tweets, pretending to be the sati savitri she was otherwise not.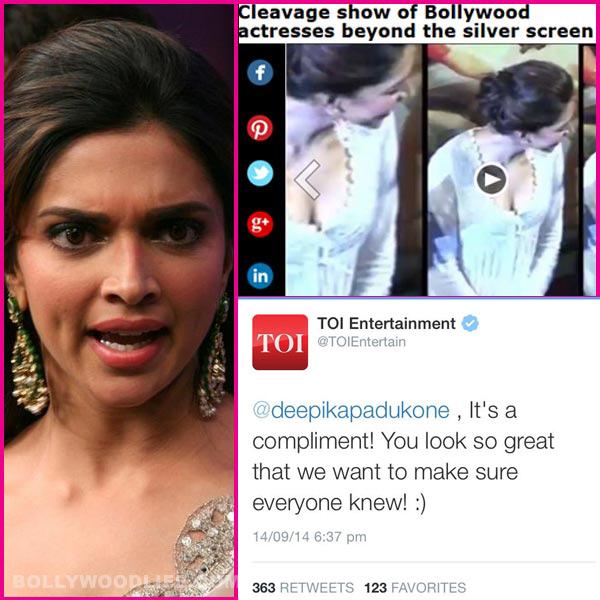 3. Hiss mee
This Tuff shoe commercial called all hell breaking lose falling in deep trouble with the Shiv Sena protesting loud and hard. The court was forced to ban the ad campaign on the whole. The posters and hoardings of the ad were not spared either and were all taken down.
Model Madhu Sapre posed nude with supermodel Milind Soman for the Tuff shoe ad campaign in July 1995. With only a thick skinned python separating their bare bodies, Milind and Madhu who happened to be dating during that period had no issues getting close for comfort.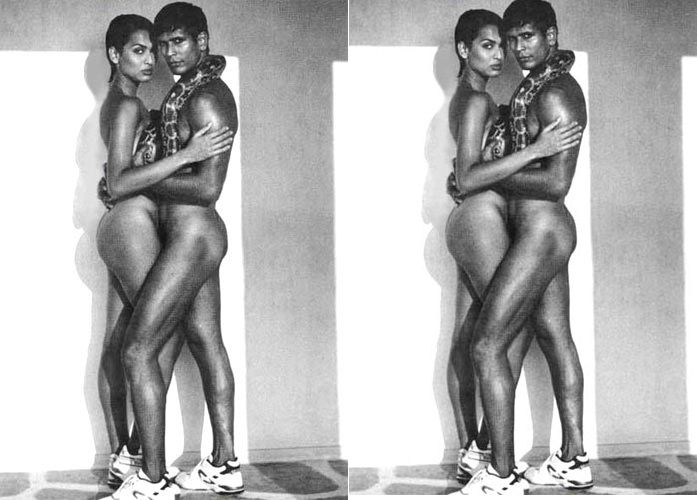 4. Aee bhaai..tune pappi kyun lee??
Remember the "oh jezus …media ko bulao…" drama queen? Who can forget the spectacle after Mika's birthday party where Rakhi Sawant was "forcefully" kissed by none other than our Punjabi munda Mika Singh. The incident was heavily reported with protests against violation of woman's rights.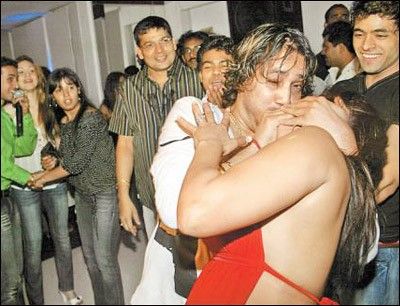 5. Hum tum or bhai!
India's heartthrob Salmaan Khan and Miss Universe Aishwarya Rai found themselves all over the paper for their alleged love affair. Rumours have it that Aish broke up with Salmaan without his knowledge and did not return his calls ending our drunk dabanng on her doorstep, banging doors, shouting and creating a scene the entire night. There was news of Aishwarya being beaten up because of her affair with debutant Vivek Obrei who later became a victim to threat calls by the bhai himself.
The relationship was finally called off…and so was Vivek Oberoi's acting career…phew!!
 6.Shiney Ahuja Rape Case
The entire B-town was in shock when actor-director Shiney Ahuja was arrested for molesting his maid. The actor was summoned 7 years of prison for raping her maid. Although there were a lot of shocking developments in the case where the maid changed her statement and refused to be raped by the actor.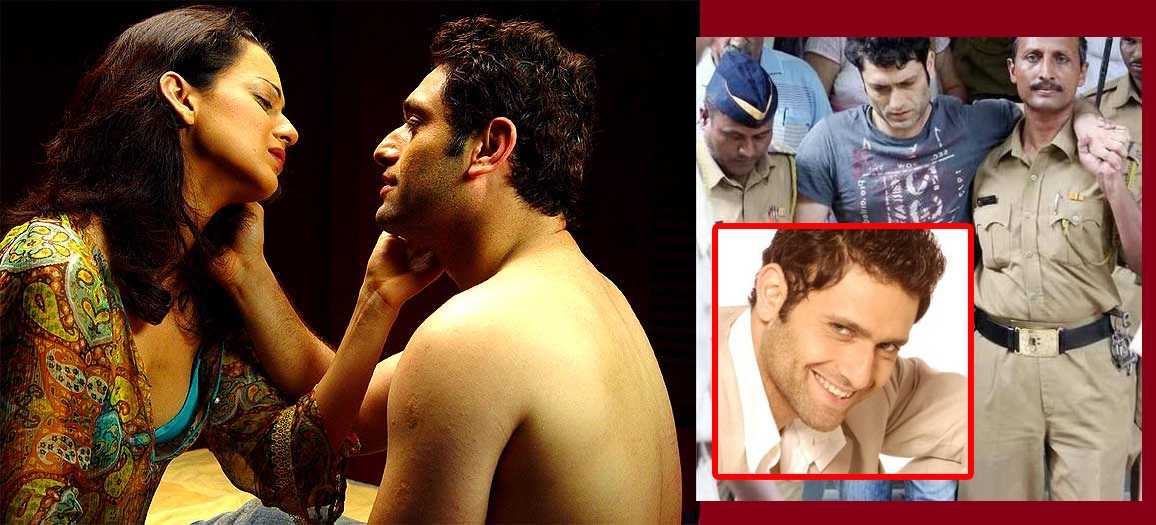 7. The famous Sharmila Tagore controversy.
It was in 1967,when Bollywood was about to witness something it had never seen. When Sharmila Tagore walked into the studio of photographer Dhiraj Chawda, he asked her what was she going to wear for the shoot and Sharmila Tagore just took out something from her purse. What resulted?
Sharmila Tagore was the first-ever Indian actress to pose in a bikini for a magazine cover. The pictures created a stir when the issue hit the stands on August 19, 1966. The issue even raised questions in the Parliament.
  8. Mere hubby ko chanta kyun mara.
Our much-loved SRK isn't very patient when it comes to losing his cool. Scorpion much? ;). The incident so happened that SRK and sirish kunder were invited to sanjay dutt's A-listed party at Juhu. After being stalked by Kunder right through the party, Khan as he was about to leave, lost his cool and allegedly pinned him onto a sofa and slapped him. This lead to the break-up of the famous actor-producer duo, following zilch conversation and ample amount of awkwardness between them. The fight did carry on for a long time, but no FIR was filled.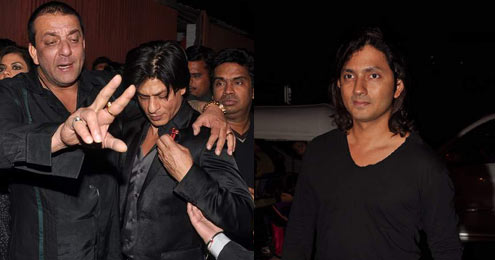 9. Jiah Khan's Suicide
The suicide of the Ghajini actress was shocking, to say the least, but the suicide notes that followed in quick succession lent an even greater air of mystery to the proceedings when her alleged boyfriend Sooraj Pancholi was accused and there were rumours of abortion.
 10. Saif's wild Safari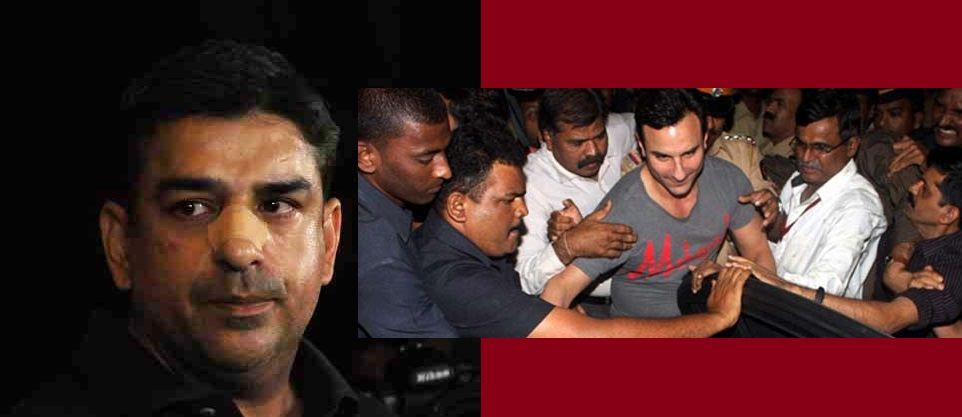 Saif Ali Khan went to have a quiet dinner with his friends at Wasabi in Taj Mahal hotel. But it was not to be as he ended up in a scuffle with Iqbal Sharma. By the end of it, Iqbal had a bloody nose and Saif a torn shirt! Saif was arrested for allegedly punching the NRI businessman and his relative after the latter told the actor's gang to keep the noise level down. The argument became ugly and took the face of a brutal fight. However, Saif was immediately bailed.